Automated Toll Collection System - Toll Xplore
---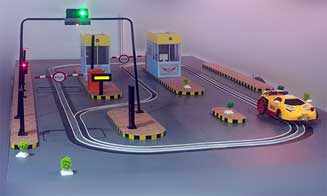 KENT ITS has developed Toll Xplore which is dynamic, customizable and scalable to suit the needs of the customers and Indian requirements. The Toll Xplore is the user friendly toll collection software with strong audit options. The system detects and records every single transaction that takes place at a toll booth.

All the vehicles are classified automatically by Automatic Vehicle Classifier (AVC) irrespective of the Toll Collector's discretion and are maintained in the system for future references. In case of discrepancies in the Toll Collector Declaration and AVC classification, captured images are mapped with the corresponding vehicle, so that the exact scenario can be identified.

Toll Xplore is also capable of working with Weigh in Motion System & Dedicated and Mixed mode ETC System. KENT has developed the solution for the Centralized Clearing House concept used for the payment clearance in case of single or multi concessionaire ETC projects.

Major USP of the Toll Xplore has been the approach towards the after sales support. KENT definitely understands that it works for a market which deals with cash, 24 hours a day and 365 days a year. Because of this approach it took a while for KENT to establish in the current Indian ITS market; but at the same time it has given it a strong foot to stand steady for long times.


Conforms to Government Authorities like NHAI, State Road Development Corporations, and State Public Works Departments and other Revenue Collection Guidelines.
Robust multiple lane access control system with high accuracy of vehicle detection and classification.
Handles high volume of Traffic.
Enabled for multiple mode of payment i.e cash and cashless (Prepaid, Postpaid and exemption).
Works on multiple access instruments like Smart Card, Bar code and Electronic Tag.
Designed for multiple types journeys e.g. single entry, multiple entry.
Well defined process for Lane, Plaza and Management Control.
Configurable for single and multi plaza environment with centralized and distributed access and control based on roles and responsibility.
Monitors the entire toll collection activities on real-time basis.
Lanes can work offline incase of disruption of communication link and data can be exported on restoration of communication link. This ensures smooth traffic flow and optimizes revenue collection under such critical circumstances.
Exhaustive Management Information System.
Integrated with License Plate Reader (LPR) and Weigh-in-Motion system.(Optional)